The Hasbrouck-Delaware Parklet is a small, community-oriented greenspace along the Kingston Greenline in Midtown.
The hardscape phase of the Hasbrouck-Delaware Parklet wrapped up in December 2018 and included construction of sidewalks, crosswalks on speed tables, extension of the park area and re-orientation of the roadway intersection, clearing of brush, addition of topsoil, and planting of grass to stabilize the slopes and avoid erosion. The Kingston Land Trust is also working with the City of Kingston to fund a staircase to connect the site to the Kingston Point Rail Trail, near the entrance to the trail's tunnel under the intersection.

The landscape design of the Parklet was done by KaN Landscape Design Inc., and funded with a grant from Hudson River Valley Greenway - Greenway Conservancy Program Grant to the Kingston Land Trust. KaN also donated many additional hours of professional services to the design of the project, along with other members of the Community Design Workgroup of the Kingston Greenline Committee. The Kingston Land Trust is currently fundraising for the landscape implementation phase of the project, including installation of plantings and preparations for future amenities.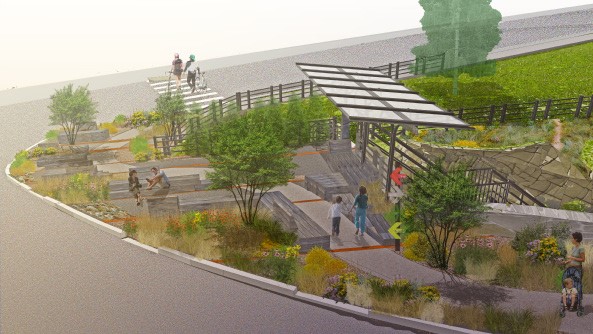 Current development status
Build
Link to City Progress Report for this Project